RE Investor Education

Please Read Through All Of The Instructions Below

Hello & Thanks
for your interest in our opportunity with our
Real Estate Investor Education
!
To get things started there are few things I need you to do in this initial screening process...
Now,
take a breath and keep your wallet in your pocket. This isn't that type of screening process :)
First,
I need you to watch a short
20-Minute video
that will give you some background information on
who we are
,
what we do
and
why you might want to work with our company
. We're screening you, but you should be screening us too - the video will help you do that. Please watch this video prior to us getting on the phone - Thanks.
Click on the link below to view the briefing...
On the first page of the website you will be asked to enter your
"First and Last Name"
and who you were
"Contacted By:"
(please type in
"Gerald Walker Jr."
just like in the image below)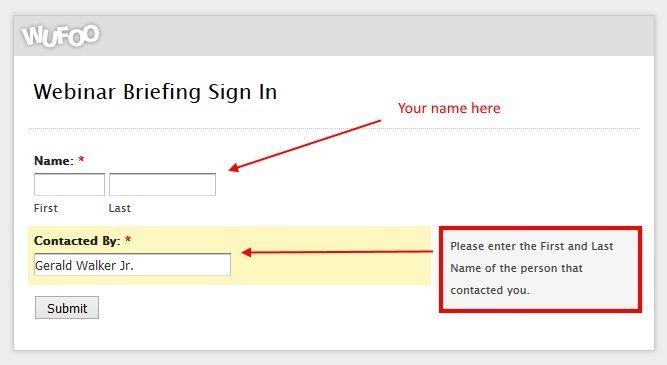 Second,
I need you to schedule a phone call with me - I just need about 5 minutes of your time. I would like to introduce myself and discuss our screening process with you just to make certain this is something you are looking to get into.
Please send a text to
"904.428.8040"
again, this is just a meet & greet and to help move you along with learning more about us. I'm normally available throughout the day - so just send me a text to let me know you are available and/or would like to find out more about working, earning & learning with us!
So, again -
watch the 20-Minute Webinar Briefing Video
and then
schedule a short 5-Minute call with me :)
Thanks for your interest and I'm looking forward to talking with you.
Regards,
Gerald Walker Jr.
904.428.8040
GeraldWalkerOnline@Gmail.com
RE Investor Trainee Position - 1.mp3